Click to read : Media coverage 1
Travel back to Nostalgic Singapore in the 1920s with Tan Ah Huat
How was life in Singapore in the 1920s?
How did various cultures and races live together and communicate?
How did Singapore develop into what it is today?
The Unique Story-Telling Tour – Trails of Tan Ah Huat Unveiled
Follow Tan Ah Huat on his trails to uncover the exciting history, culture and hidden corners of Singapore.
Let's Go Tour Singaporeis pleased to announce the launch of 'Trails of Tan Ah Huat, Singapore 1920s'– an immersive tour experience,bringing visitors through the 1920s to visualize and 'experience' life during that nostalgic colonial era.
Guided by knowledgeable tour guides who are passionate about our Singapore history, be prepared to be engrossed by our story-tellingas we retrace Tan Ah Huat's footsteps by riding along various historical landmarks, monuments and heritage sites.
Based on the fictional character of Tan Ah Huat, the story centers on his entrepreneurial life, his friends, his passion, and his love. Be taken back in time to the 1920s with the aid of multimedia and contrast with modern Singapore with our guides' beguiling stories as we travel through the Trails of Tan Ah Huat.
The story of Tan Ah Huat, a Chinese immigrant who came to Singapore for a better living will unfold as visitorsarrive at each location where the guides will share his exciting story of what happened then at the exact spot, people he encountered and what he did. Visitors will get to learn about the cultures and a glimpse of history behind characters like Muhamad Zulfri (Malay Fisherman), Mr Singh (Doorman), Lim Mei Hua as the story unfolds.
Best Immersive Experience for Tourists
In line with the Singapore Tourism Board's Passion Made Possible Global Campaign, 'Trails of Tan Ah Huat' seeks to bring Singapore Stories to life, to excite, interest, educate tourists about Singapore's history and culture through a storytelling approach for a complete and immersive experience that they will remember deeply.
Great Bonding Retreat and Education For Locals and Expatriates
Trails of Tan Ah Huat is a refreshing concept that will also excite the locals and expatriates in Singapore as it offers a unique and fun experience with an engaging storyline that they will strongly relate to and relive nostalgic memories. Expatriates living in Singapore can also gain deep knowledge and better understanding through the trails.
This trail seeks to also create bonding and retreat opportunities for families, friends and corporates.
Tour Duration / Fee
The tour duration is 4 hours and is priced at $99 per pax (adult). 10% discount for kids aged 9 years and above. Each visitor will receive a straw hat and 'Good Morning' towel. The tour price includes use of bicycle and helmet, a dedicated licensed tour guide and storyteller, bottled water, poncho as well as local drinks and snacks at designated rest stops.
Registration
Mode of Tour
By bicycle (E-scooter available, additional charge applies)
Group Size
2 to 40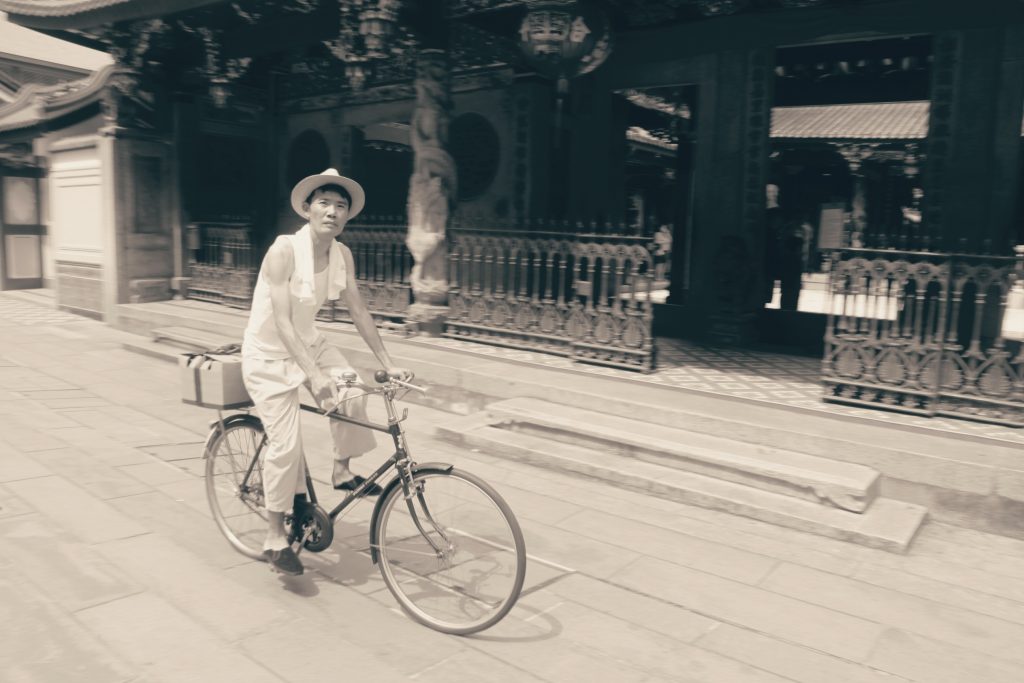 ---
"Always passionate about our Singapore history, sights and cultures, our aim is to create unforgettable tour experiences. Being the first-mover in bike tours, we have gained popularity and trust from our customers and partners. This has strongly encouraged us to think in-depth and creatively, to offer a never-before experience that can create a long lasting impression on Singapore and as such 'Trails of Tan Ah Huat' was conceptualised. Participants can feel and imagine Tan Ah Huat's life story and will keep wondering what is going to happen next. We are already thinking of more stories in the pipeline!"

– Daniel Tan & Robin Loh, Co-founders, Let's Go Tour Singapore
---
"Travellers today seek unique and in-depth local experiences that fulfil their passions. We are pleased to support immersive tours like 'Trails of Tan Ah Huat' that weave powerful storytelling with Singapore's history and sights, allowing visitors to experience Singapore in an in-depth and engaging manner. This unique re-telling of the journey our forefathers took to build better lives for themselves and their families are a strong reminder that Singapore is a place where passion can truly be made possible."

– Ms. Ong Ling Lee, Director, Travel Agents and Tourists Guides, Singapore Tourism Board
---
In conjunction with the Singapore Bicentennial Commemoration, 'Trails of Tan Ah Huat' is definitely an itinerary that visitors to Singapore have to embark on.
In collaboration with wegonative.com (an online tour agency) and as part of the Chinese New Year festive celebrations,Tan Ah Huat will be making series of public appearances at the Chinatown Square in front Visitor Centre on the following dates (more updates on Facebook and Instagram):
26 January 2019, 2 to 4pm
27 January 2019, 2 to 4pm
2 February 2019, 2 to 4pm
3 February 2019, 2 to 4pm
Lets Tour Singapore has indeed brought the bike/ride experience to another level and promises to make this a unique Singapore attraction.
出发吧! 新加坡旅游
邀请您和我们一起参与这趟精彩的旅程,一起在旅行中聆听《陈阿发的故事》。我们将带您穿越回二十年代的新加坡,跟随一位早年从中国漂洋过海下南洋寻求发展的小人物 – 陈阿发。与他一同结交新朋友,聆听他的爱情故事,感受他艰苦奋斗的心路历程,体会浓郁的南洋风情…
当我们沿着阿发的足迹展开这段与众不同的旅程时,每一位游客将在不同景点,通过多媒体幻灯片来体验故事情节,了解阿发在新加坡的创业点滴。之后我们的专业导游,以讲故事的方式娓娓道来阿发和新加坡的奇妙缘分。全方位多角度了解新加坡的过去和现在。而游客朋友们也将通过阿发和阿发故事背后的人物来领略本地的历史和多元文化。比如善良的马来渔夫默罕默,莱佛士酒店通晓英文的看门人Mr.Singh、以及充满传奇色彩的林美花等人物。还等什么呢?让我们一起出发吧,去探索不一样的新加坡!
游览时间 :4小时
费用 :$ 99/人
旅游方式 :自行车(可升级电动踏板车,额外付费)
费用包含 :自行车和头盔、持证导游(讲故事的人)、瓶装水,
雨衣以及在指定休息站享用当地的饮料和小吃。
费用不含 :酒店接送(我们离市区很近,交通方便,出租车便宜又安全。
HashTags
#letsgotoursg #letsgobikesg #lgt #passionmadepossible #guidedtours
#singaporetours #actionseekers#trailsoftanahhuat
For more information:
Website :www.letsgotoursingapore.com
Facebook : www.facebook.com/letsgotoursg/
Instagram : @letsgotoursingapore
~ Ends ~
MEDIA CONTACT: AT Marketing Consultancy
Agnes Tay

Email: agnes@atmc.com.sg
Mobile: 9477 7838
Founder's Profiles
The Cyclist and The Chef
Fun-loving, dynamic and passionate about our Singapore heritage, bike tours was the brainchild of Daniel Tan who initiated the bike tour trend back in 2012. As business grew with increased interests from overseas visitors, Robin Loh, a serial entrepreneur, came on board to help in the business expansion.
Business has grown exponentially with more brand extensions and exciting projects under the dynamic duo who never ceased to have new fun ideas injected into their business plans!
The Cyclist and more . . . Daniel Tan
A multi-talented and dedicated professional, Daniel wears many hats. He is not just The Cyclist actually!
Daniel has an impressive career record in sales and management from the young age of 22. A go-getter with a passionate attitude to work, life and play, Daniel is very active in various fields.
The Insurance Manager
Besides owning Let's Go Tour Singapore Pte Ltd, Daniel is also an Executive Senior Manager with Great Eastern Financial Advisers Pte Ltd.
The Speaker
He has hosted the Entrepreneurs' Forum with former Minister of State, Mr. Teo Ser Luck, and hosted dialogues with DPM Tharman Shamugaratnam and Former Vice President of Peru, Dr. Raul. He was also the panelist for NTUC Union Financial Week.
The Mentor
Daniel is an Accredited Mentor Partner of ACE Startup Grant under Spring Singapore and a Career Coach with NTUC Youth Career Network. In addition, he is also a council member of the Financial Planning Association of Singapore.
The Actor
Daniel also acts on a part-time basis and has appeared in various productions with MediaCorp Channel 5 (Tanglin), Channel News Asia, and Ministry of Education school videos. He has also acted in TV commercials such as Starhub, Volkswagen, Guinness and SMRT, just to name a few.
The Writer
He has wrote articles in Straits Times, GOLF, Frequent Traveller and was interviewed on Channel 5 (Common Cents), Straits Times, Shin Min Daily (Chinese), Young Parents, Silver Kris, Channel 8 (Frontline) and other publications/online media.
The Fitness Buff
With a strong belief in fitness and health, this is exactly the reason too why Daniel has the idea of a bike tour too. He has been practicing Yoga for over 12 years. Besides regular biking, he also runs 2 to 3 times per week, goes to the gym almost daily. You will also see him riding his e-Scooter in his business wear too!
The Chef and also Tan Ah Huat . . . Robin Loh
Having run and managed several businesses in different industries, Robin Loh is a successful, customer-oriented and shrewd businessman. With his extensive experience managing and operating JJ Pte Ltd (Food & Beverage), Bath Culture Foot Therapy (Massage/Spa, tourist based), Robin has a wealth of experience in these fields. He also has 10 years managing an engineering design firm.
Passionate about local sights, local heritage and of course local food, Robin oversees the operational and business development of Let's Go Tour Singapore.
And now… he is The Actor too… as Tan Ah Huat from Singapore 1920s.
A very outdoor person, Robin also loves fishing and kayaking. He enjoys cooking too.
He was also recently interviewed by Channel 8, Frontline.
In his school days, Robin used to be in drama, and being able to add drama to tour experience in fact was a dream come true for Robin, to act the character of Tan Ah Huat.

About Let's Go Tour Singapore Pte Ltd
Explore Singapore. Discover.
Let's Go Create Special Memories!
Established since 2016, Lets Go Tour Singapore Pte Ltd is a licensed tour agency and has been rated Top Ten Tours on TripAdvisor for 5 years consecutively.
With a team of professional tour guides under the capable leadership of its founders, Daniel Tan and Robin Loh, the experienced and certified guides will take customers around Singapore to learn more about its history, people and culture, most of all lots of fun and unforgettable memories!
Let's Go Tour Singapore has evolved over the years starting with 'Let's Go Bike Singapore' focusing on a healthy, exciting and fun way to explore Singapore, catering to tourists mainly. As business grew and demands increased with tourists getting immersed and wanting to explore more, 'Let's Go Cook' was launched to allow the tourists to have a hands-on experience, learning to cook and taste authentic Singapore food.
Since 2018 there was an increase in demand for both services from local customers such as expatriates living in Singapore, corporate clients as well as our very own Singaporeans.
With the support of Singapore Tourism Board, Let's Go Tour Singapore kickstarted the unique story-telling bike tour 'Trails of Tan Ah Huat'.
Lets' Go Tour Singapore now offers out-of-the-box, creative and comprehensive tour experiences:
Foodies

Flavours of Singapore Cooking Class

Peranakan Food & Culture Experience

Hainanese Culture Foodie Tour
Explorer

Tiong Bahru Heartland Walking Tour
Action Seekers

History Singapore Bike Tour

Splendours of Marina Bay e-Scooter Tour
Cutlure Shapers

Trails fo Tan Ah Huat – Singapore 1920s

Peranakan Tiles Design Painting Workshop

Singapore Street Art Appreciation Tour with Painting Workshop
---
---
About Author