The Only HAVEN Official Launch Party
Updates: The Only HAVEN Official Launch Party
16 year old HAVEN's Official Launch Party for PIECE OF PAPER, we are pleased to share with you the latest updates, her upcoming release of new Mandarin songs written by local producer singer/songwriter Zadon as well as another Mandarin song collaboration with Philippines 19 year old Patrick Quiroz (lyric written by Roy Li Fei Hui).
PIECE OF PAPER lifted HAVEN from one of her darkest moments
Unveiling upcoming collaborations with Zadon and Patrick Quiroz
Contact us for an exclusive interview with Haven and Zadon.
HAVEN's successful launch party held at SCAPE on 10 Jan 2020.  She shared how she wrote PIECE OF PAPER during her darkest moments and broke down emotionally when several congratulatory video messages poured in.
A humble and sincere 16 year old, 
this song is for the mass audience who can resonate with society's real issues. 
Nothing fanciful, but a heartfelt media and trade session for business partners, casting agents and fans to get to know this down-to-earth young girl whose 
dreams are coming alive with the support from Academy of Rock and ABS-CBN ( Philippine's Media and Entertainment Conglomerate.).
Here's the post event press release and relevant information for your reference.
MAIN PRESS KIT LINKS containing the following:
Guests who attended the launch: 
Jonathan, Manalo Creative Director, ABS-CBN, Star Music  who gave a short speech on the partnership with AOR Global to cross-promote each countries' talents.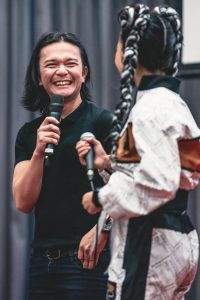 Roque Santos, Head of Star Pop, ABS -CBN
Patrick Quiroz ,19 year old Guest Singer
Zadon, Guest Singer, Producer, Singer-Songwriter
YouTube: HAVEN
Facebook / Instagram:  The Only Haven
AOR Global officially launched the new single – PIECE OF PAPER for 16 year old international artiste, HAVEN (佳林).
Held at SCAPE, the launch party was attended media, special guests, casting agents, business partners and fans.  Representatives from ABS-CBN, Philippines' largest media and entertainment conglomerate also specially flown in to support.   In the audience were RoqueSanto, Head of Star Pop, ABS-CBN as well as Jonathan Manalo, Creative Directorof ABS-CBN, Star Magic.
A total of 100 guests attended the launch and received specially-commissioned tote bags and posters.
The launch kicked off with a showreel about HAVEN as she recently acted in a short film 'Van Without a Plan' and her debut music video 'IMAGINE'.
Anjila Lim, Managing Director of Aacdemy of Rock (AOR) and AOR Global shared about AOR Global new directions and plans and AOR's REACH Programme that grooms talents for the international market.
HAVEN performed PIECE OF PAPER, an alternative pop song and shared more about her songwriting journey with Producer, Retrofocus member and Academy of Rock Alumni – Juan Ezwan who wrote and arranged the music.    A Singaporean Chinese, HAVEN personally penned the lyrics for Piece of Paper. Her self-written lyrics express her frustrations with the systematic restriction of being bounded by paper qualifications, particularly from the perspective of a teenager in today's fast-paced society.  
Haven's distinctive voice is full of emotions that truly reflect her generation's anxiety, dreams and frustrations.  
SPECIAL COLLABORATIONS
Special guest Zadon has written 2 Mandarin songs for HAVEN and joined her on stage for a duet 虚伪 'Hypocrite'  while HAVEN sang another solo written by him 不知道 (I Don't Know).   They will be releasing these two Mandarin songs this year.
HAVEN sang soulfully for another 'IMAGINE' which was a duet with Kyle Ecchari when she debuted in 2019.
Special guest from Philippines, 19 year old Patrick Quiroz performed a cover duet with HAVEN.  He will be collaborating with HAVEN to record a Mandarin version of the hit song 'Mabagal'.   Titled  '幸福该有的美' veteran producer, singer-songwriter, also HAVEN'S mentor, Roy Li 黎沸揮 penned the Mandarin lyric and coached the two singers vocally.
This new song is slated for release in the next few months.
Congratulatory video messages  came in for HAVEN much to her surprise and she broke down emotionally when Star Vocal Coach, Thor Dulay congratulate her and encouraged her.  It was really a touching moment for the audience.
Juan (Piece of Paper producer and co-composer)
Yeng Constantino (Mentor, Singer, Actress)
Thor Dulay (Star Vocal Coach, Singer-Songwriter, Philippines)
Kyle Ecchari
Roy Li
Moira Dela Torre (Singer-Songwriter, Original singer for hit song 'Mabagal'. Mandarin version lyric is written by Roy Li and will be released in Mandarin by HAVEN and Patrick Quiroz)
HAVEN also shared with the audience that she also paints during her leisure time.  "I  like to add colors to something plain or white.", she added.  In support for #LOVEYOURSIBLING social awareness campaign, HAVEN personally painted a pair of shoes, which will be put up for auction at her launch party.  The proceeds from this auction will be donated to Autism Resource Centre.  The bid will commence from $300 and aims to raise $2000 to support the centre. Interested bidders can email to loveyoursibling@aor-global.com.  Updates will be provided on her Instagram  at a later date.
About HAVEN
16-year old International multi-lingual singer-songwriter and actress Haven. debuted with her first collaboration duet with 16 year old Filipino-American singer and actor Kyle John Echarri for the song  'IMAGINE'.
HAVEN was invited for interviews and performances on the following media:
Capital Radio 958 Interview
The Great Christmas Village (SCAPE)
#LOVEYOURSIBLING Launch
Singapore Street Festival 2019, 2018
MOR 101.9 Radio Guest
Showtime Online (Philippines)
Wish 107.5 Bus (Philippines)
One Music Wander Jam (Philippines)
Tee Radio, Pinas FM, Home Radio Guest (Philippines)
DZMIM Tele Radio Guesting (Philippines)
Letters and Music (Philippines)
Rumours
Professionally trained at Academy of Rock since 2017, HAVEN also plays the guitar and piano besides having professional vocal training and being mentored by Roy Li for her Mandarin vocal classes.   HAVEN also learnt professional dancing at GForce, received mentorship for Yeng Constantino and vocal training from Thor Dulay in Manila.
'IMAGINE' YouTube: https://youtu.be/UrYrAnkSUsg
'IMAGINE' Spotify: https://open.spotify.com/playlist/4IbSZReCDbUKjVv57fVmMs?si=NSEHGQNQSRKCPTwUa-5LzA
Haven performed in Manila and was interviewed by the media:
Press conference in Manila:
Haven shared in this press conference in Manila more about her dreams, how she looked down on herself and grateful for the opportunity for this amazing collaboration, to continue to work hard working towards her dreams, that her song and singing will touch the hearts and let people be more open with their feelings.
https://www.abs-cbn.com/newsroom/news-releases/2019/9/6/kyle-singaporean-artist-haven-launch-collab-singl?lang=en
https://myx.abs-cbn.com/features/20196/kyle-echarri-singaporean-artist-haven-imagine
http://manilastandard.net/mobile/article/304920
https://cebudailynews.inquirer.net/255769/imagine-of-cebus-kyle-echarri-set-for-digital-platform-release-on-friday#ixzz63tpgBICh
About AOR Global
AOR Global dedicates itself to the talent development, international expansion and corporate social responsibility of the AOR brand. The Company views itself as a platform – a space that provides opportunities to nourish budding talents, goes beyond physical borders and gives back to society all through and with music and popular music education. It is the bridge between AOR and the rest of the world – connecting, giving and growing.
About Author