Embrace, Embody, and Unleash Your Inner 'Emily'!
Open Call for Emily@Home Digital Arts Project Video Submissions
#EmilyatHome #SGCultureAnywhere #SGUnited #stayhomeforSG
19 June 2020, Singapore – Orangedot Productions and Stella Kon Pte Ltd announce the launch of Emily@Home Digital Arts Project, an open call for video submissions from the public based on passages from 'Emily of Emerald Hill', the critically acclaimed monologue in Singapore since 1982.   This monodrama, written by well-known Stella Kon, who is a playwright, novelist, short-story writer and poet, has been performed locally as well as internationally.
What is Emily@Home?
Emily@Home is supported by the National Arts Council's Digital Presentation Grant for the Arts, as part of the #SGCultureAnywhere campaign to bring together the best of Singapore's arts and culture digital offerings to be enjoyed and experienced, anytime and anywhere.
Margaret Chan, Emily of Emerald Hill , Singapore Arts Festival, 2010
Photo Credit: Orangedot Productions
It is open to all participants from the public (locally and globally) to channel their inner artist and express themselves freely by showcasing their own interpretation and portrayal of Emily with one or more recorded videos of their acting, based on 5 iconic passages from Emily of Emerald Hill.
Participants regardless of age, gender or race can take this opportunity to unleash their creativity with their most innovative and unique interpretation of Emily.
Pearlly Chua, Emily of Emerald Hill, 2019
Photo Credit: Chin San Sooi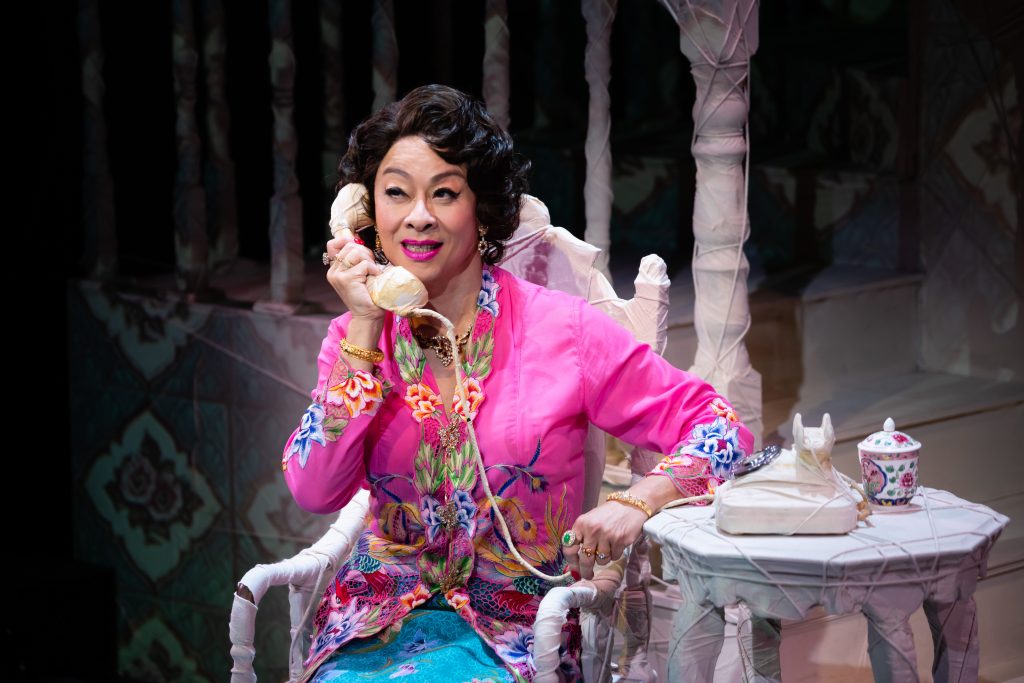 Ivan Heng, Emily of Emerald Hill 2019
Photo Credit: Wild Rice
These videos will be curated and uploaded to Emily@Home's social media platforms on YouTube, Facebook, TikTok and Instagram where members of the public can share their comments.
Previous directors of 'Emily of Emerald Hill' such as Glen Goei, Jeremiah Choy and well-known actors such as Margaret Chan, Pearlly Chua and Ivan Heng, who have played the role of Emily, together with playwright Stella Kon will be the panel of Creative Collaborators for this project. They will be sharing their comments on the videos submitted by the participants. More details will be furnished at a later date.
Stella Kon (Photo Credit: Stella Kon Pte Ltd)


Jeremiah Choy (Photo Credit: Orangedot Productions)
Glen Goei (Photo Credit: Wild Rice)
The Objectives
Emily@Home seeks to encourage critical thinking and open-mindedness when it comes to expression especially during this Covid-19 where everyone has to stay home as much as possible.
As an academic textbook too, this project allows students to explore deeper into the story and character. Emily@Home also hopes to continue to engage, encourage and support aspiring actors or theatre practitioners to hone their acting skills, to create some fun at home as well as to generate interest in Singapore culture around the world.
Participants are encouraged to delve into the psyche of a woman, a mother, a wife and a daughter better, and how these same traits or characteristics apply to them.
Who Can Participate
Emily@Home welcomes participation from any member of the public and from all over the world to have fun in creating their version of Emily, regardless of age, gender, race, culture, acting experience or qualifications.
How to Participate & What's in Store
Interested participants are required to sign up on this online form: https://forms.gle/4az8xnHHuDFEEg438 and to submit their videos by the closing date on 31 August 2020. Details, terms and conditions are indicated in the form, via email to the participants (Refer to Appendix A).
Tokens of appreciation will be awarded to participants for the following:
Best Interpretation
Best Effort
Most Entertaining
The panel of Creative Collaborators will decide on the best 3 videos by mid-September 2020. Recipients of the tokens of appreciation will be notified by the end of September 2020.
Social Media Links for Curated Videos to be uploaded 

Facebook: Emily At Home
YouTube: Emily At Home
Instagram: @emilyathome2020
TikTok: @emilyathome2020 

Website for reference: https://www.emilyofemeraldhill.com/
Official Launch of Emily@Home
with Public Online Screening
of 'Emily of Emerald Hill'

To kick start Emily@Home, there will be a public online screening of 'Emily of Emerald Hill' (starring Margaret Chan, Singapore Arts Festival 2010).
Date: 27 June 2020 Saturday
Time: 8pm
Duration: 1hr 30mins
YouTube Link: https://youtu.be/OrlDbgaUYlI
(Stella Kon's Works YouTube Channel)
Produced by Orangedot Productions, 'Emily of Emerald Hill' was commissioned by the National Arts Council for the Singapore Arts Festival 2010. It was performed and co-directed by Margaret Chan and co-directed by Jeremiah Choy at the Victoria Theatre from 11 to 13 June 2010.
For public enquiries, email to emilyathome.artandculture@gmail.com.
MEDIA CONTACT: AGNES TAY agnestay@atmc.com.sg